Horizontal Directional Drilling & Underground Construction Services
R Directional Drilling & Underground Technology, Inc. and our subsidiaries service the public, commercial and residential markets with the variety of underground services.
24 hour emergency services
Horizontal Directional Drilling
Dirt ground conditions*
Cobble ground conditions*
Rock ground conditions*
Trenching
Traffic Detection Loops
Jack and bore
Utility locations for underground repairs
Asphalt Cuts
Utility duct pulling
Potholing underground utilities
Asphalt removal
Backfill & compacting
* May include the placement of conduit for water, sewer, electric, gas, telecommunications, cable or any other required underground utilities including the placement of shoring as required.
Each project is customized to the special requirements of the client and current ground conditions. Prices are determined by the scope of the project, ground condition, required materials, labor hours and wear and tear on equipment.
Horizontal Directional Drilling
Our fleet of ten (10) Vermeer directional drills, range in size from a 9×13, which is capable of pulling 9,000 lbs to one of the largest drills in the Southwest, a 80×100, capable of pulling in 80,000 lbs of product. This year, as company we set records for both the 24×40 Vermeer and the 80×100 Vermeer drills by pulling in 54,000 lbs and 139,000 lbs respectively. We have the capability and equipment to complete large bores up to 36", as well as long distance bores up to 2000'. Our innovative use of mud recycling, mud driven down hole motors, aggressive tri cone bits and larger drills, make R Directional Drilling the "go to" drilling company for rock or specialty large bore projects.
Open Trenching
We have expanded our capabilities to include conventional open trenching methods in moving towards "turnkey" solutions for our client's underground needs. Currently, we operate four (4) fully staffed and equipped trenching crews, with each crew comprised with a 310 John Deere backhoe, 5 yard dump truck, 1 ton crew truck and an air compressor equipped with a jackhammer and tamper. Our trenching crews receive specialized training on utility company installation requirements, and trench/shoring safety.

Vacuum Potholing
While vacuum potholing has always been used during the horizontal drilling operations, the need by our clients for stand-alone vacuum pothole services has become apparent. Currently, we have established two (2) vacuum pothole crews equipped with 3,000 gal wet vacuum systems mounted on semi-trucks. These units are unique in that they carry 750 gal of water for the 4500 psi pressure water cutter and have an on board 135 cfm air compressor and jackhammer for asphalt removal. The increased capacity and built in features allow for less downtime to dump a full tank and removes the need to have additional equipment in a congested area.
With the variation of capabilities, equipment, training and personnel, R Directional Drilling and Underground Technology Inc., has grown into one of the premier providers of underground pathways in the Southwest. Thank you for the opportunity to present R Directional Drilling and Underground Technology Inc. and should you have any questions or need additional information, please give us a call.
Excavation Solutions for the Engineering and Surveying Sector
Engineering firms are responsible to their customers for keeping current with the most recent codes and construction practices and for keeping their projects uninterrupted and within budget. Engineers are by nature problem solvers.
Potholing for Utility Design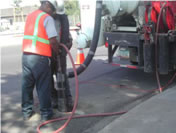 Potholing is the practice of digging a test hole to expose underground utilities to ascertain the horizontal and vertical location of the facility. The horizontal and vertical position of the exposed facility must be tied to a survey benchmark or permanent above grade feature. The position may be identified by GPS or traditional survey coordinates or by measuring the distance, with a tape measure, to permanent features in three horizontal directions. In addition, the vertical distance below grade should be obtained.
Some municipalities and utility companies do not consider potholing to be an option. Rather, it is viewed as an essential phase of underground construction design for all types of excavation. This practice applies to all potholing activities for both construction and design applications.
R. Directional Drilling's hydro-vacuum excavators provide the natural solution to those difficult or risky excavation projects that make conventional excavation equipment inappropriate for the job. Unknown underground utility lines, extremely sensitive fiber optic cables or congestion due to obstructions make the hydrovac a safe, efficient alternative to those engineering problems that can result in cost over runs and project delays.
We utilize a technology called air/vacuum excavation to locate, expose and map facilities. Air/Vacuum technology is employed to quickly and efficiently move soil from the test hole to holding tank on the truck.

Location & Surface Opening: Utilities are designated and marked using highly specialized electromagnetic and radio frequency instruments. Then, a 12 inch square opening is made just above the utility area.

Exposing (day-lighting): Existing buried utilities are uncovered via an air vacuum high pressure "Airlance" which loosens the soil around the utility, without damaging the buried facilities.

Soil Extraction (Air/Vacuum): A powerful air/vacuum pulls the soil out of the exposed area and deposits the material in a large mobile tank.

Depth Measurement & Mapping: With the utilities exposed, depth can be verified, and mapping/surveying activities can be accurately performed. Air/vacuum methods help achieve desired results, especially critical with the increasing emphasis on trenchless technology-directional bore construction.

Result: Utilizing Air/Vacuum technology, the entire process takes approximately 45 minutes per hole is completely safe and environmentally compliant. The only evidence of our presence is a 144 square inch (or as in this case, round) patch.